Mother & Baby/ Mor og Baby Yoga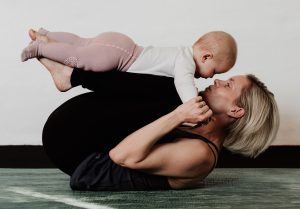 A fun and supportive yoga class for both mother and baby's well-being.  For mothers these yoga classes help support good posture, muscle tone, strengthen the abdominal muscles and pelvic floor. Mentally the classes can help boost energy as well as relieve stress and anxiety.  For babies these yoga classes can help relieve common ailments such as colic, constipation, and wind. All classes end with a relaxation.  I will do my best to ensure that both you and your baby are comfortable for this portion of the class.
* The physical yoga class will be ca 1 hour long followed by a cup of tea and chat after our practice *
Age Suggestion: This class is for babies about 6-8 weeks up until they are mobile.
Contact me to book a class.  Booking is essential as spaces are limited.