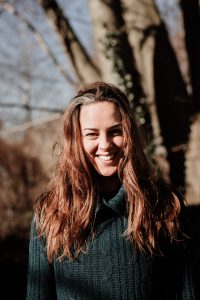 Johanna
Hello! I've been teaching yoga for 14 years, first in London and now here in Denmark. I tried yoga for the first time when I was 17 at which stage it was just a form of exercise for me, something physical I did on a mat. But with time I learned and continue to learn the deeper meaning of my yoga practice. I found that it is a way of life, not just something I do to become more flexible or stronger, although that is a nice side effect of yoga. Bringing yoga into my daily life affects my interactions with other people and the planet, my parenting decisions, and also influences the choices I make when I take food. My guru, Yogrishi Vishvketu, always says that yoga starts in the kitchen, eat happy food in order to be happy. This is why I choose a plant powered lifestyle alongside my yoga journey.
In 2009 I went on a life changing trip to Rishikesh, India where I completed my first yoga teacher training and came home full of life and love, bursting to share my new knowledge and help people on their own individual journeys. You can read more about my certifications here.
Yoga can truly be life changing. Each person's path is unique. Anyone can practise yoga whether they can touch their toes or not. I am by no means perfect (even if I can touch my toes!) and I do not expect my students to be, we are all human after all. So I will support you on your individual journey. Each yoga class I teach focuses on the needs both physically and emotionally of my students on any given day. Yoga is not a competitive sport, each person will be encouraged to work at their own pace and level. I love teaching a variety of people from all walks of life and welcome all ages. Together, we will explore, laugh, maybe even cry, move, challenge ourselves, rest, and share space and time together.
My main goal is for you to walk out feeling invigorated, uplifted and most importantly with a smile on your face.
Please note that all my classes are taught in English. If required I use some Danish in Family Yoga classes. I more than happily communicate in Danish, but I am still learning.