Mummy & Baby/ Mor og Baby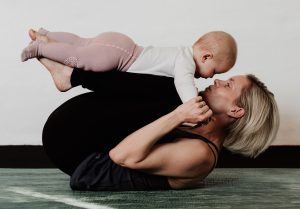 A yoga class for both mother and baby's well-being.  For mums these yoga classes help support good posture, muscle tone, strengthen the abdominal muscles and pelvic floor. Mentally the classes can boost energy as well as relieve stress and anxiety.  For babies these yoga classes can help relieve common ailments such as colic, constipation, and wind.
This class is designed so that both mummy and baby get some yoga in.  We sing simple songs to engage babies.  All classes end with a long relaxation which promotes restful sleep for both mother and baby. As I know you need it, you will be well pampered!
Our yoga practise will be about 1 hour or perhaps more if babies allow and we will always make time for tea and a circle time chat after our practice, sometimes including a guest speaker at the end of a session.

Age Suggestion: This class is for babies about 6-8 weeks up until they are mobile.
Contact me to book a class.  Booking is essential as spaces are limited.