Family Yoga Classes run on the first Saturday of every month.
Combining fun and energeti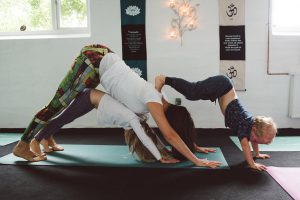 c movement, breathing techniques, and relaxation.  Grownups and children alike will be encouraged to explore, move, dance, sing and laugh just for the joy of it. What better way to spend quality time with your family in a relaxed setting?  These classes welcome everyone so bring your baby, toddler, child, teenager, grandfather or grandmother, carers also welcome, everyone will be accommodated (space permitting).  I encourage you to move together, connect and enjoy each other's company without any distractions from the outside world.  The classes have been split up depending on children's ages.  If you have children that span over two (or even three) age groups then please get in touch to enquire which class may suit your family best, as I can be flexible with the age requirements.  Spaces are limited and reserved on a first come, firs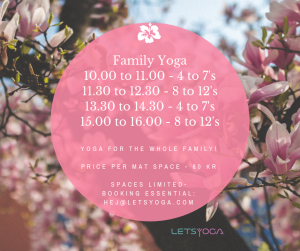 t served basis.  I have space for 8 mats.  Some children can share with their grown up.  Older kids usually need their own mat.  I charge 80 kr per mat space booked.
Age Suggestion – All ages welcome, find the best class for your family by following the specific age guidelines of each class.  Babies welcome with older siblings.
Please note that snacks will not be permitted in the yoga studio.  Make sure everyone has had a light bite before the class and been to the toilet.
Contact me to book onto a family yoga class.  Booking is essential as spaces are limited.